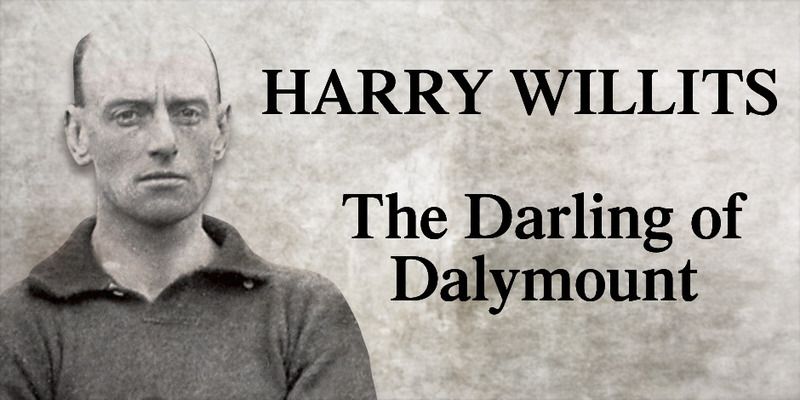 By GERRY FARRELL and BRIAN TRENCH
When Harry Willits finished his first season as Bohemian captain in spring 1916 he had other major responsibilities on his mind. He had joined the Royal Dublin Fusiliers in late 1915 "for the duration of the war" and soon he would be sent to the western front in France during the Battle of the Somme.
He had followed his friends and several Bohemian colleagues in signing up for the army. His choice was the Commercial Battalion of the Dublin Fusiliers, established to cater for young men of the "commercial class" and farmers.
Willits was not the military type, according to his daughter Audrey, still living in the family home aged 93. But English-born and a civil servant, he moved in circles where enlisting for military service would have been regarded as a matter of duty.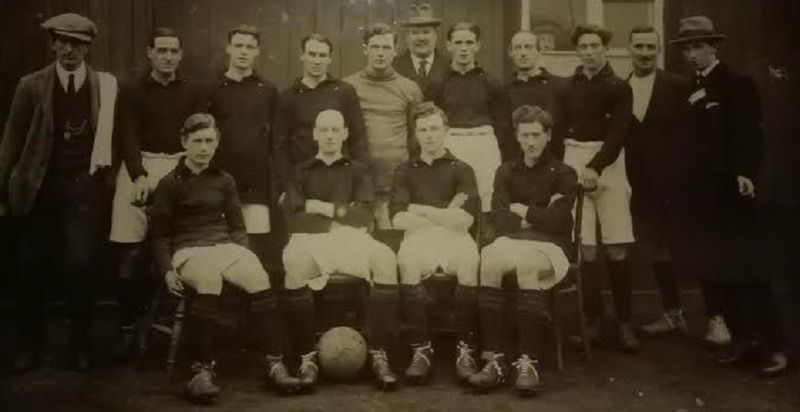 He was promoted to corporal in February 1916, three months after enlisting. According to military records he became a sergeant in July 1916, though he was already identified in a June 1916 report of a cricket match between King's Hospital and 10th Dublin Fusiliers as "Sgt Willetts", bowled out for a duck.
He had a short period – three months – of active military service, yet he lived all his days with the consequences of it. In October or November 1916 he was wounded in the thigh, and he spent several months in hospital in southern England before returning to Dublin, and to Bohemians. His injury was serious enough for amputation to have been considered.
He missed all of the football season, 1916-17, as he recovered from his injury. The mark of the wound remained visible and the strain of playing in a weakened condition took its toll on his health in later life.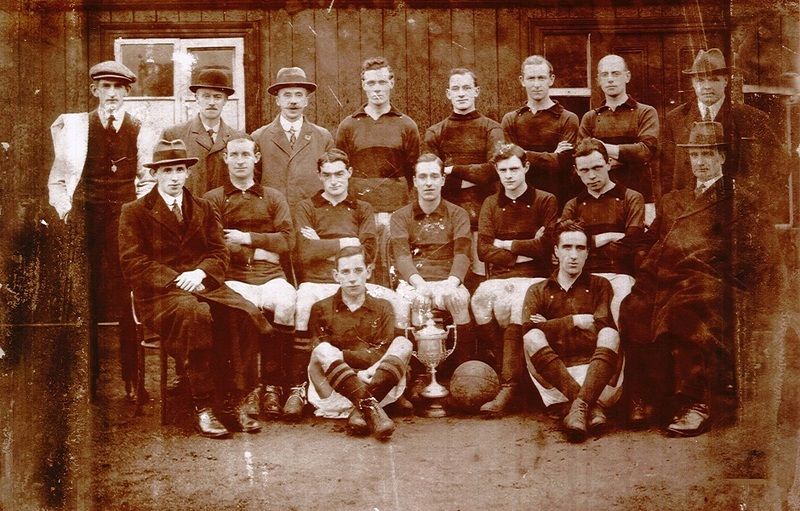 Harry Willits was born in Middlesborough in 1889 and already made a strong impression as a footballer in his teens, when he played for Middlesbrough Old Bays, Cambridge House and the famous South Bank club where a team-mate was later English international George Elliott.
Willits's father was headmaster of Middlesborough High School when Harry and George were pupils there. But it was apparently in order to get away from his over-bearing father that Harry sat the civil service examinations and then, when he was admitted to the service, chose to take up a post in Dublin. He worked in the Post Office stores and later, over several decades, in the Registry of Deeds.
He joined Bohemians just after the club had captured the Irish Cup for the first time in 1908. He was a regular first-team player over the following years in the forward line, at inside-left or outside-left, alongside internationals Harold Sloan and Johnny McDonnell.
In spring 1916 he played football and cricket for the Dublin Fusiliers as well as captaining Bohemians. When he resumed service with Bohemians in late 1917, he was profiled in the Dublin weekly newspaper, Sport, as The Darling of Dalymount. The writer claimed there were many who came to Dalymount specifically to see Willits play.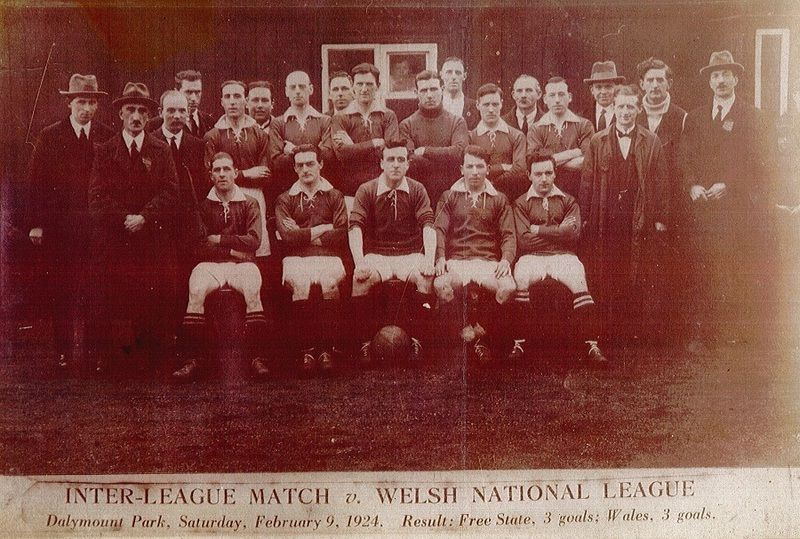 Tall and prematurely balding, he was a striking figure. He was best-known as a skilful passer and crosser of the ball, but also contributed goals, including some from the penalty spot. Willits and Johnny West were a potent partnership at inside- and outside-left. (West was also a popular baritone singer, who performed at summer evening 'promenades' in Dalymount during the war years.)
Willits lived for a time near the Botanic Gardens with his mother, who had moved to Dublin following the death of Willits's father. In 1919, however, Harry married Annie 'Cis' Wilson and with her inheritance they bought a house in Lindsay Road that remains in the family nearly a century later. The furniture includes a large dining-room sideboard that was a wedding gift to Harry and Cis from Bohemians, and a mark of the high esteem in which the club held him.
Willits was Bohemian captain again in 1920-21, when he was reported to have had a "new lease of life" as a footballer. Now in his thirties, he was prominent also in the Bohemian team that won the first League of Ireland title in 1923, and was selected with four other Bohemians for the new league in their first representative match against their Welsh counterparts in 1924. Willits played for club and league alongside Christy Robinson, who had a very different military record as a member of the IRA during the War of Independence.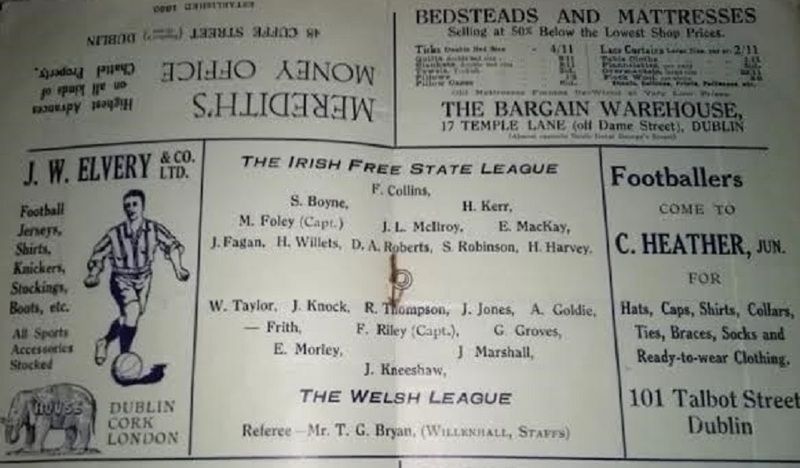 Some newspaper correspondents suggested that, but for his English birth, Willits might have been selected for Ireland. From 1925 onwards, he was playing with Bohemians' second team and scored in a 4-0 win over Dublin University (Trinity College) in 1929, when he was 40. He featured in a short Bohemian'newsreel' of 1930 as a "model Bohemian" who was "still going strong" and "a sportsman to the core". Nearly fifty years old, in April 1938, he lined out for an Old Bohs team in a charity match in Dalymount against an Old Rovers side.
Even before his playing days with Bohemians finally ended, Willits became involved with the club's Management Committee, also later the Selection Committee, and he served as Vice-President.
From the 1920s Harry Willits was a keen and competitive tennis player, being club champion in Drumcondra Tennis Club several times over the period 1923-33. He served also as club president and vice-president.
A man of routines, he always had two books on loan – one fiction, one non-fiction – from the Phibsborough Library. He dressed formally, in suit, tie and hat, and walked from his home to the Registry of Deeds in King's Inns, responding to the frequent greetings of Bohemian fans in the streets. He practised calligraphy and did charcoal drawings.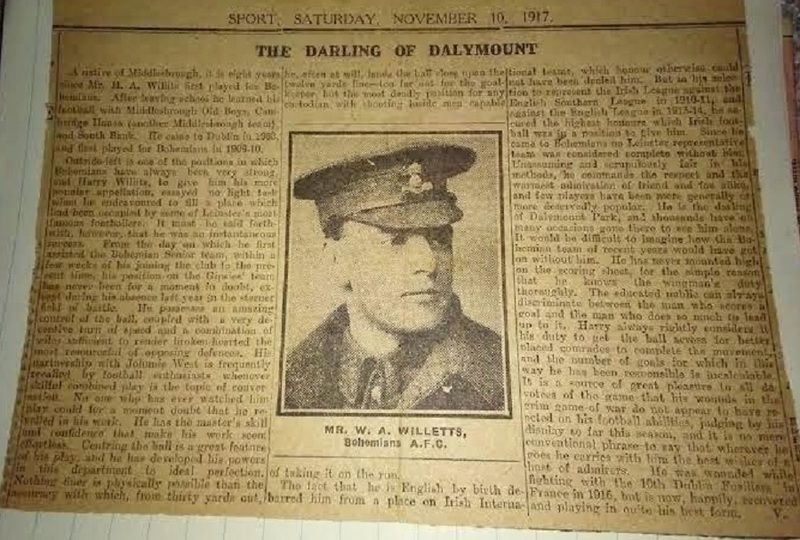 His daughter Audrey and son Alec were both kicking footballs with their father in the family's Glasnevin garden from early days. Alec played briefly for Bohemians first and second teams in the 1940s, but could not live up to what was expected of him as his father's son. He later played for the Nomads.
Audrey applied her kicking skills to keeping goal for Pembroke Wanderers hockey teams for many years, appearing also for Leinster provincial teams and serving many years in the club's committees.
From 1937, as Audrey recalls, Harry Willits developed asthma due to the strain of living with a war wound and this had a serious impact on his quality of life, also taking a financial toll. Harry had to reduce his work to half-time, which also meant half-pay, and Audrey remembers that the family often struggled to get by.
Despite this, Willits continued his involvement with Bohemians, as club officer and selector, and even – up to the age of 60 – as a coach. He was actively associated with Bohemians in one capacity or another for over forty years. He died in April 1960, aged 70, and is buried with his wife in Mount Jerome Cemetery.
Next in this series: Gerry Farrell tells the stories of other Bohemians who fought in World War 1.